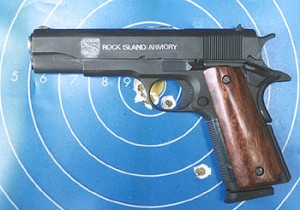 By Jason
I have good news for all those asking about the Rock Island 45's. Here are my findings. My first firing session of 100 rounds was very frustrating. My ammo was Winchester WinClean ammo. The magazine is cheap and she needs a polish job.
After that firing session here's what I did: One needs to do Syd's Fluff & Buff. I polished everything that had metal to metal contact. But that's just me. I disassembled the entire gun – hammer, sear, pins, springs – you name it – down to the bare frame. I gave everything a very through cleaning. I also added a Chip McCormick Full Length guide rod. I had to made a slight modification with Dremel to make it fit, a five minute job. I replaced the stock recoil spring with a Wolff 18.5# spring. With the FLGR in, the entire slide action is much more smooth when manual cycling the slide. I also ordered 1 standard 8-round Chip McCormick magazine and 1 8-round Power Mag, just to see if there would be any difference in feed-ability or function (both worked fine).
I also made a slight adjustment on the stock extractor. The rest of the Rock Island was left bone stock. I have always used Mobil One synthetic oil in my guns for lube. They get real dirty but they always work!
I purchased the same ammo, Winchester WinClean ammo along with CCI Blazer. I fired a total of 200 rounds and she never missed a beat – no, jams, no stove pipes. There were just three errors, of which two were me an the other was caused by a bit of debris lodged in the extractor. I cleaned the extractor with a dry brush and there were no further problems.
I found that after adding the FLGR and the 18.5# recoil spring that the recoil was a lot less and I'm not a gun guru but the shots were right on the money! It shoots to point of aim and prints a nice "tight" group as they say.
My first impression was the pistol was OK. But when I fired it, it was not smooth like my other .45 which is a Para. After the polish work, a few tweaks and some good mags, this Rock Island is a keeper. It was a joy to shoot. But remember that this is a Clone of a Colt 1911. So, some of these so called "drop-in" parts might need a tweaking to make them fit. I'm not a gunsmith but I was able to make the necessary corrections with a Dremel. No problems. A sweet gun for an exceptional value. Or it would make it a nice build up gun.
Whatever you do with it, I don't think you can go wrong.