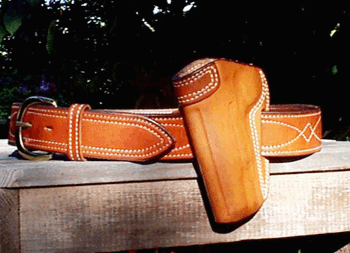 Rick Breneman
This style of holster, with a belt loop and trailing belt slot, is so popular that almost all major manufacturers have a variation. The original holster of this type was perhaps the Milt Sparks 55BN; the BN being Bruce Nelson, who also designed the Summer Special made famous by Sparks. Called the Vertical Scabbard by Kramer, the Sport by FIST, the Avenger by Galco, Bianchi's version was developed with input from famed pistolero Charles Askins.
What makes the Askins Avenger distinctive is its fairly extreme "FBI cant". While most makers put the slot, designed to pull the butt of the gun into the body, behind the trigger guard, the Bianchi version has the slot beneath the guard, making the gun ride quite high, and (in my opinion) better-concealing a large gun.
I've been using my holster for three and a half years in IPSC Limited competition, and it is still looking good. The stitching is still tight, and the leather has not stretched or sagged out of shape. Matched to 1 3/4″ Bianchi belt, the holster is tight and secure.
My one complaint is that the unlined interior has no formed sight channel, which meant that the first few dozen draws revealed a blob of leather fuzz on the front sight. With use, this trait has disappeared; but it is perhaps this problem that caused Bianchi to drop the #4 holster from the line, and continue with only the lined #4L version.
The Avenger is truly a behind-the-hip design, the cant requiring that the holster be worn over the hip pocket to maximize both concealment and draw speed. If you're looking for a high quality holster for range or concealed carry use, that comfortably and discreetly accommodates a full-size pistol, try the Bianchi Askins Avenger.