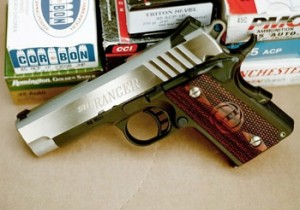 By Scott Smith
STI International, long known for the high-capacity, polymer framed competition pistol has entered into the carry race with the Ranger. This is an all steel pistol with all the features one looks for in a CCW piece.
The Ranger is small with a 3.5 inch taper cone barrel, good trigger pull, no sharp edges and a small frame for concealability. The grip panels are thin flat checkered for a low profile but solid gripping surface. Like its big brother the Trojan, the Ranger uses STI's tree bark type front strap texturing instead of checkering. In a carry pistol this is great as it affords a good grip but does not aid in wear and tear of clothes.
The Ranger is an all business handgun, in a real caliber for our test piece, 45ACP, is there another choice? With its all steel construction, it readily handled the hottest loads from Cor-Bon and Triton with minimal recoil, something similar sized alloy framed 1911s can't lay claim to doing. Ammunition run through the Ranger included Cor-Bon, Triton Hi-Vel, PMC, Blackhills, CCI, Seller & Belliot, Remington, and Winchester; all in a variety of weights and bullet styles. As was expected this little 1911 shot everything well, with 7 shot off-hand groups averaging 3″ at 20 yards.
This is a fine OM sized 1911 and would serve one well for daily carry use. With practice it would make a fine little IDPA piece too, those short sight radius' are tough to get fast follow-up shots when you are used to a full size GM. For more detailed information on the specs of the Ranger, go to www.stiguns.com, drop them a note and tell them you saw the Ranger at www.SightM1911.com.