By Ray Rios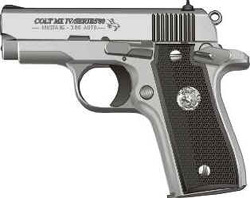 I've become a collector of Colt guns… semiautomatics mainly, both old and new. Recently I came upon a barely used Mustang .380. The gun was on consignment in the local gun shop for $400.00 with the original box and literature, and one extra Colt magazine.
I inspected the gun closely and found nothing wrong with it. It was clean, unscratched nickel plated and gleaming steel. My personal estimation is that the gun was fired only a few times, as there was some powder residue in the dust cover, but no discernable wear on the barrel shroud, hammer interface or muzzle. I liked what I saw, so I bought the little gun.
I (as always) did a little internet research and discovered the most obvious improvements that the gun needs. One, replace the Colt-provided plastic guide rod (what a cheesy item!) with a replacement. Two, replace the clumsy double recoil spring arrangement that Colt supplies the stock gun with with a Wolf single recoil spring.
Okay, so I took the gun to the range and put 200 rounds of Russian "Golden Bear" .380 ammo through it. No failures to feed, and surprising accuracy at 25 feet, which is all I would expect of an extremely compact and concealable personal-defense gun in .380 caliber. Basically, at 25 feet the bullets went where I aimed them… nothing wrong with that.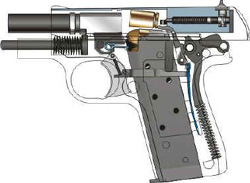 One problem that I discovered is that the safety lever is easily pushed into the "safe" position by the right thumb during recoil. I developed a quick cure for this by "riding" the safety lever with the tip of my left thumb while I shoot the gun. Problem solved.
There is quite a clamor for subjecting these little guns to the "dehorning" process. The logic is that these guns are full of sharp edges and carry guns need to have smooth contours. I don't disagree, but the price for dehorning a Colt Mustang approaches $400.00! This is as much as I paid for the gun… add in silly stuff like Novak sights, new triggers, etc., and you can sink a bunch of money into a simple self-defense pistol that runs pretty damn well out of the box, and better with some inexpensive aftermarket parts, as I indicated previously.
I experienced no problems with magazines dropping out of the gun while shooting, or the slide release lever falling out. As far as I am concerned, these issues are fables… couldn't prove it by me…
I like this gun. I would also like to acquire one of the .380 Government models. What a shame that Colt quit making these classy little guns.