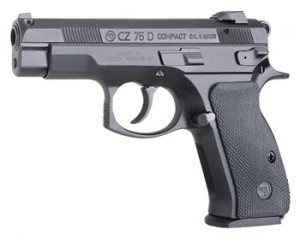 By Ray Rios
I recently bought a new CZ75D PCR. This is the lightweight compact version of the CZ75D that was commissioned by the Czech national police (thus PCR). The gun cost me $449.00. What did I get for my money?…
I got a very lightweight 9mm handgun with an aluminum alloy frame and steel slide. The gun is not a "micro – 9" by any means but it's weight and profile make it a very viable carry gun.
The gun came with front and rear grip serrations, and serrations on the forward portion of the trigger guard. Very handy and useful. The slide has both fore and aft cocking serrations. The gun also comes equipped with a very obvious and noticeable loaded-chamber indicator on the top of the slide; low-profile Novak-style sights, extended mag release button located in the preferred 1911-style on the left side of the grip; a decocker mechanism very much like the SIG pistols (this is a great feature), Commander-style hammer; very comfortable soft-rubber grips with just the right amount of palm swell, and a beavertail-style grip enhancement that makes the 1911 shooter feel at home. Full-length guide rod is standard equipment. The magazines are well-made and hold ten rounds. All edges of the pistol's exterior have been nicely rounded to be snag-free for comfortable carry. The finish is the CZ "polymer" baked-on matte black. It looks good and it is tough. Field stripping is a snap and the gun is easy to maintain.
If I sound impressed I am… this is a nice package for the money.
The gun is a pleasure to shoot. Very pointable. Using the sights the bullets go where they are aimed. I have written a previous review of the CZ75B for this website and I must say that this gun is even more accurate in spite of it's shorter barrel and sight radius. Every round goes "bang!". No misfeeds or jams even during the 100-round break-in period. I wouldn't hesitate to use this gun for personal defense when reliability is utterly necessary.
I hope people catch on to this… the CZ guns are really, really good. I like them so much that I am downsizing my collection of certain Austrian-made guns to make room for more of the CZ-line of pistols, shotguns and rifles.
And NO… I don't work for CZ! I am a gun enthusiast who knows a good deal when he sees one.
Six Months Later
As far as functionality is concerned, the gun has had one major fault… the magazines. I found after a while that the magazines would bind up and cause jamming. I tried changing the magazine springs by buying the recommended Wolff replacement, but this didn't really improve matters much. The gun continued to jam. I installed different recoil springs… again not much difference. I inquired of CZ as to their recommendations, but didn't get much in the way of help there, either. Finally, I bought two ProMag EA004 mags at a gun show in Sacramento. Bingo! The Pro-Mag magazines solved the problem. The gun now runs rapid-fire 10-round runs without any problem. Hollow-point ammo such as Hydra-Shok or Winchester Silver Tips also feed reliably. I've ordered another Pro-Mag for my gun as I like to have three magazines minimum for all of my semi-auto handguns.
Now that the magazine issue has been resolved, the only other fault that I have with this pistol is the sights, and there is a remedy for that as well. CZ sells a tritium night-sight replacement set for $75.00 and I will install these as soon as they arrive. With that improvement in place I would rate the CZ75DPCR as my best 9MM handgun, slightly better than Glock and Kahr because the gun is double/single action with a de-cocker. Light-weight and very accurate. Easy to disassemble and clean. I recommend this gun to anyone. Just be prepared to buy new magazines if my experience means anything.
Specifications:
Designed to the specifications of the Czech national police the PCR (Police of Czech Republic) COMPACT is an alloy frame de-cocker. The PCR features an extended magazine release, low profile snag-free sights, loaded chamber indicator, serrated front and back strap for improved handling, rubber grip panels and a lanyard loop in the butt.

MSRP

523.00

Stock

Checkered rubber

Frame

Light Alloy

Finish

Black Polycoat

Ammo

9 mm Luger

Mag./cap.

10

Overall length

183 mm / 7.2 in.

Barrel length

98 mm / 3.9 in.

Height

135 mm / 5.3 in.

Width

35 mm / 1.4 in.

Weight

780 g / 1.7 lbs.

Barrel

Hammer forged

Rifleing

Conventional

Trigger mechanism

SA/DA

Sight type

Fixed, low profile

Safety features:

Decocking lever
– Safety stop on the hammer
– Firing pin block safety