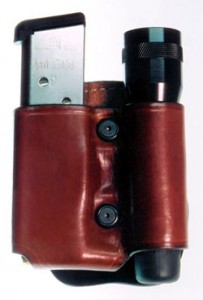 Aker 517 DMS Magazine / Flashlight Combo
Cops have known it a long time, and armed citizens are learning it: a good flashlight is almost as important a self defense tool as a good gun, and often it's considerably more useful.
A gun or two, spare magazines, flashlight, cell phone… how do you carry all of this stuff without looking like you've stolen Batman's utility belt? The Aker 517 Magazine and Flashlight Combo consolidates at least two of these "must carry" gadgets, the flashlight and the magazine.
This item is a hybrid that addresses the demands of convenience as much as anything. If you routinely carry one spare magazine and occasionally need a flashlight, this rig is handy. Being paddle mounted, it's easy to put it on and off. On duty gear, combo carriers are often some combination of flashlight, cuffs or spray together on one carrier and then paired with a double magazine pouch somewhere else on the belt. But different folks have different styles for packing their gear, and this one might float your boat. For the armed citizen who isn't carrying handcuffs, and may feel the need for only one spare magazine, this is a solution.
The Aker offering is solidly constructed in cowhide. It has two tensioning screws which allow you to adjust to slight variations in size of flashlights. It is built to accommodate the Surefire 6P and the Streamlight Scorpion or Stinger. With an MSRP of $39.95, it is very reasonably priced. I bought this one for $31.60 at CopQuest.
This magazine and flashlight pouch accommodates one spare magazine and flashlight in an optional quick on/quick off paddle unit. The paddle is attached to the carrier with screws and can be easily removed. Under the paddle there is also a belt slot which will allow this case to slide onto belts up to 1 ¾" if you prefer not to use the paddle.
• Models for left or right handed persons
• Models for SureFire 6P, Streamlight Scorpion or Stinger
• Available in Tan or Black finishes