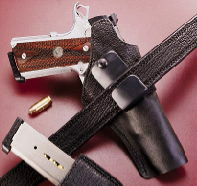 By Daniel Coon
I would like to pass along some information back to you about holster choices for you and all the other 1911 carriers out their. I have been using the Wilson Combat Featherweight IWBtm for the past year and find this to be the best inside the pants holster that I could have ever invested in for carrying either my full size or even my compact Springfield's daily.
This Holster is without a doubt a true Featherweight without really any bulk at all, much less weight and discomfort. It sports a screw-down oversize type Kydex J Hook that hooks under the belt, removing any weight on the belt and it can be adjusted to virtually any cant whatsoever that one desires, from anywhere between straight drop to 10% or 15%, or to the very extreme cant in either direction you need it. It keeps and holds that same cant position for as long as it's needed or desired and then can be recanted with a simple Allen wrench adjustment.
The best feature I love about this holster is that its top portion of the rig is designed to lock and hold the thumb safety of the 1911 styles in the locked position for either single safeties or ambi carriers. I have never had to worry about my thumb safeties being in the off position since I've used this holster, and I have never once removed my weapon to find the safeties in the off position on either of my pistols. My full-size is set up for ambidextrous also and never has been a problem or worry for me.
The Wilson Featherweight holster in Black Only sells for a mere $56.95 in cowhide, or $74.95 in the top grain Sharkskin/Cowhide combo for right-handers only and fits 1911's and most clones. Wilson also builds this holster for the Browning Hi Power's in 9mm and .40's. This holster comes with a complete soft light gray lining from top to bottom.
I never had to go through the major chore of breaking in this holster as it was perfect from the very first day it arrived. It has worked exactly the same from its first arrival to the present and never lost a bit of its shape, structure, appearance or its functioning capabilities.
I consider this to be the best investment in any holster style that I could have ever made. This holster has never let me down and has given me total concealment and even comfort no matter how I dress within reason. I've even almost often forgotten sometimes I'm even carrying!
Also, on long hard days of activities, I have incorporated the help of J-hook type Y-Style Suspenders in 1″1/2 width to ease the weight and to add comfort and control any shifting of my pants or holster. These suspenders use similar J-hook-style hooks that slip under the belt nice and neat with any slipping. J-type clips and are much simpler to hookup and depend on as they never come undone until you want them to be removed. They can be found through Perry Suspenders or Dickies Company. Both carry this style J-hook type suspenders in various widths. For concealment, either item or both can be concealed as well as the other without any attention drawn to one's self. No real effort is needed to make the carrier more assured and concealed because the weapon stays where it is placed. It minimizes discomfort on the long days activities no matter what they be.