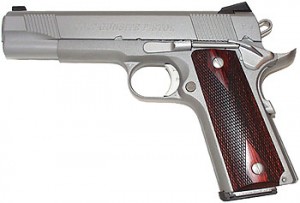 By Darryl Rowe
Okay – first note that I have not fired in almost a year due to medical problems and resulting blue funk. Also, that while I shot my way into "B" class in the old Kentuckiana Practical Defense League back in '80-81 with a plain out-of-the-box nickel-plated Series 70 Government Model I'm now older and wear bifocals (the fancy kind where you can't tell ).
I'm also digital-camera challenged, so perhaps I'll take some "real" film photos to replace the horrid digital ones embedded herein in a week or so.
Onwards. Having been disappointed in the proclivity of a newly acquired used Kimber Gold Combat Stainless to rust while riding in a Galco Royal Guard IWB while going home from a match and picking up some groceries (about a two-hour delay) that I quickly responded to the Gunsite Gunsmithy's email regarding the availability of the Colt Gunsite Pistols.
Gunsite sells them for $1395 – which is fair considering dealer cost (or so I hear). $1200 would be a good lower limit. Gunsite and Colt worked out the specs and Gunsite now offers the "real" Gunsite Service Pistol as a custom job built on a Caspian parts although they have been built on Colt and Springfield guns in the past. Gunsite will still, I believe, bring your gun up to GSP spec but the Colt Gunsite Pistol is what they now offer in the class package. You'd have to email the gunsmithy and ask about pricing on builds or upgrades.
This version, the Colt Gunsite Pistol (CGP vs GSP) is designed to offer some basic guns that will work out-of-the-box for those taking the full "package deal" and save the smithy time to devote to custom guns and troubleshooting student problems rather than spending all their time building guns.
It is quite nice – dehorned (well, the sights could have some edges broken), trigger is satisfactory for a carry piece, thin grips are great especially with the short trigger (you guys with big hands can adapt, us with smaller hands have to cant the weapon to the side slightly or have less-than-optimal trigger control), and the sights are basic but usable.
I think I prefer the frontstrap serrations to the checkering of the Kimbers, the checkering may help when firing one-handed but so far the difference is negligible. I'll follow up on this after a couple of months. Maybe an addenda after taking Tom Given's Combatives class.
Took it to Knob Creek Saturday morning and fed it a couple hundred 230gr Blazers with a few 230gr Golden Sabre and 230gr Hydra-Shok thrown in for testing (Kieslers has a nice deal on Hydra-Shok in 50-round boxes for about the 1.5 times the cost of a 25-round box [August 2004]). No problems, nada, zip.
Didn't really have a testing schedule, put some EZ-See targets about (guestimate) 20-25 yards out and shot from seated two-handed rest and one-handed rest, standing strong-hand and standing Weaver. When I did my part the rounds went center "A" zone. Going out to the four "side" bulls and doing slow-fire on two of them I could have covered up the groups (3-4 shots) with a standard business card. The others I did some "reset" firing where I pulled the trigger as soon as I felt the disconnector reset – okay, we'll use 2 business cards for these; and then some hammers – where, as expected, things opened up to take up the full "chest" area. Actually, at that range I'd be using Nike rather than a 1911, most likely,
I'll be using it for this month's match [August 2004] and will try to acquire some opinions from others. Then if I can still get into that Combatives class for August 28…..
It disassembled normally for cleaning, after another 800 rounds or so I'll do a full detail-strip and inspection. Did not see anything abnormal other than the dad-gum full-length guide rod it somehow snuck out of the factory with – but Gunsite is making that good since Colt isn't.
Price-wise: I'd say it's a better deal than a Kimber Gold Combat if you want thin grips and a short trigger. If you want those and night sights it might become a toss-up…or not, since conventional wisdom suggests that one not carry a street piece with less than a 4# trigger. Considering that I was going to spend over $300 more on the Kimber to bring it up to CGP/GSP standards (i.e. Kimber's "small-hands" package and replace the ambi safety with a standard one) and then throw away that useless magazine chute they tacked on (concealed-carry rather than open-carry)…and it would still have that problematic 3.5# trigger for the legal beagles to bay over if something happened…..
If you want a minimalist production fighting gun, this is it.
If you want to spend more, a Baer Thunder Ranch Special would be good. (Personally, I prefer stainless, so….)
If you want a GSP, send Gunsite your existing 1911 and about $400-600 to bring it up to spec or give them upwards of $2000 (depending on what you want) to build you one on Caspian parts.
Features
Series 70 firing system
Smith & Alexander metal grip safety with palm swell
Serrated flat mainspring housing
Dehorned all around
Thin rosewood grips
Gold Cup serrations on front strap
Heinie front and Novak rear sights
Short aluminum trigger with 4 – 4½ lb pull
Wilson extended safety lock
$100 coupon towards training at Gunsite
Two 8-round Wilson magazines w/metal base plate
McCormick hammer and sear
Available Models:
– O1070CGP
– O1980CGP
Technical Specifications

Model
O1070CGP
O1980CGP
Name
Colt Gunsite
Pistol
Colt Gunsite
Pistol
Frame material

Stainless steel

Carbon steel

Frame finish

Stainless
Blue
Barrel length

5"
5"
Overall length

8½"
8½"
Caliber

.45 ACP
.45 ACP
Capacity

8 + 1
8 + 1
Hammer

Combat
Combat
Trigger

Short aluminum
annodized
Short aluminum
annodized
Action

Single
Single
Front sight

Heinie
Heinie
Rear sight

Novak
Novak
Grips

Thin rosewood (Slimtech)

Thin rosewood (Slimtech)

Grip safety

Upswept S&A w/
palm swell
Upswept S&A w/
palm swell
Thumb safety

Wilson extended
safety lock
Wilson extended
safety lock