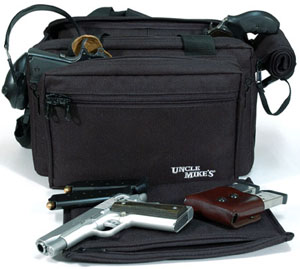 Uncle Mike's Deluxe Range Bag
If the need was for a bag to pack to your gear to the range, I thought this one would be decent. It's roomy, but not too terribly big, and seemed sturdy enough to handle the duty. I particularly liked the heavy feel of the bag's construction. It's also reasonably priced at about $45 at most places.
The Uncle Mike's Deluxe Range Bag is constructed of tough 600-denier black woven outer material with an internal coating for water resistance. The main compartment of this range bag is covered by a roll-up, double zippered flap which can be secured open by Velcro. This range bag also features durable web carry handles and an adjustable, removable carry strap with quick release buckles. It has two lockable side compartments, one padded, and one which holds a padded pistol rug (included). The main compartment is 15″ wide, 9″ high, 7″ deep (381mm x 229mm x 178mm)
I liked it a lot. I really did. Then, on the way home from the range, the quick release buckle that attaches the shoulder strap to the bag gave way. This was on the fourth usage of the bag; it's not old and fatigued. At the time of the failure, the bag contained a Combat Commander, an S&W Model 60, one box of ammunition, two hearing protectors, and some odds and ends – nothing close to what should be a failure inducing load. 'Nuff said.