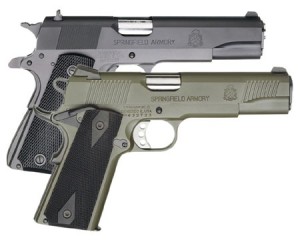 SSgt Mark D. Littlejohn
I have recently purchased two Springfield Armory 1911-A1 pistols, a parkerized Mil-Spec and the OD fully loaded service model. I bought the Mil-Spec last November and have put about 400 rounds thru it so far. The pistol has performed flawlessly, no feed jams, failure to extracts, etc. Accuracy was dead on; fit and finish were excellent, the only draw back being cheap plastic grips and a poorly staked front sight. I called Springfield and told them about the problems, but unfortunately their customer service dept is not familiar with their own products. They wanted me to ship the pistol back for them to fix the front site, but it might take 3 or 4 weeks to fix. I paid $7.50 for the gunsmith at my local shop to fix it. What aggravated me the most was that I wanted the front sight silver soldered and the customer service dept wouldn't let me talk to a technician and this dim wit also told me that Springfield doesn't recommend silver soldering the front site (after first not even knowing what that meant).
Two weeks later I added double diamond rosewood grips from Altamont, and flat mainspring housing and 18 lb. recoil spring from Springfield. Here began another misadventure. I assume Springfield is using a shorter strut on the hammer due to their ILS system in the mainspring housing, thus they do not pin the mainspring in its housing. The new mainspring housing I got from Springfield did not have ILS, so I pinned the mainspring normally. Wrong answer – the hammer strut was too short, no bang when you pull the trigger. I called Springfield and their incredible customer service dept (after supposed consultation with a technician) told me to remove the mainspring cap and it should work fine. Obviously that didn't work either. So I put the mainspring in the new housing unpinned and everything works fine. The moral of the story is that if you have a Springfield and need help, don't call customer service – talk to someone in the custom shop… if you can get them on the phone.
On the other hand the OD fully loaded, full size model I bought last week is something else. While it might be ugly with the green finish, it shoots like a bat out of hell. It has one of the smoothest actions I've seen on a 1911 style pistol, great factory trigger pull, and the OD Armory Kote finish is very smooth and protective. Overall the pistol is immaculate except for…..(wouldn't you just know!) it has a set of $1.99 grips from Pearce Grip, Inc. and two of the crappiest blue magazines I've ever seen. The grips are black rubber and have no support inserts of any kind, so they are very flexible. The magazines are almost unloadable as the follower catches on the forward lip of the magazine and hangs up. Fortunately I have 4 stainless 8 shot magazines made by Chip McCormick and they function flawlessly with the gun. I replaced the original grips with a set of Altamont double diamond ebony ambidextrous grips and they look and function wonderfully. I have owned 7 different 1911 style pistols and shot many others, this one is by far the best. The pistol retails for $829….I got it for $650 brand spanking new. Even with the new grips I still got a great deal. If you want a superb 1911 style pistol this is the one.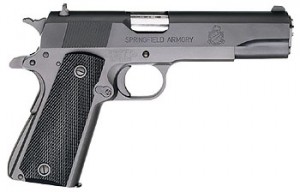 Mil-Spec 1911-A1
Parkerized PB9108L
Caliber: .45 ACP
Capacity: 7+1
Barrel: 5″, 1:16 LH
Sights: 3 Dot Hi-Viz Fixed Combat
Sight Radius: 6.25″
Size: 35.6 oz., 8.625″ overall length
Trigger Pull: 5 to 6 lbs.
Magazines: 1
MSRP: $620.00
---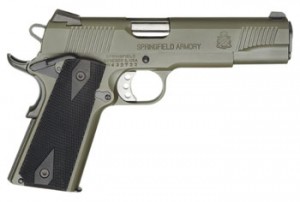 Custom Loaded FULL-SIZE 1911-A1
OD Green Armory Kote™ PX9609L
Caliber: .45 ACP
Capacity: 7+1
Barrel: 5″, 1:16 LH
Sights: Novak® Patented Low Mount
Sight Radius: 6.5″
Size: 38 ozs., 8.5″ overall length
Trigger Pull: 5 to 6 lbs.
Magazines: 2 Mags.
MSRP: $829.00