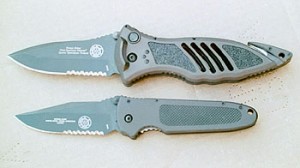 By Scott Smith
Over the last few years one of the things that has become closely linked to shooting is the advent of the "clipit" knife. There are loads of these out there from the buck and a half special to the exotic five dollar models. Some work, some look good, some are just there to say I have one.
A company that is truly a "been there, done that" organization is Masters of Defense (MOD). The knives in the MOD line are made from the finest materials, and are designed for daily use to the needs of high-speed, low-drag special operators. These knives range in size from the small pocket style, clip-it knife to fixed blade knives.
MOD knives are made from the highest quality materials available today. The grips are made from 6061 T6 Aluminum for strength and lightweight durability. The blades are made from high carbon stainless and cryogenically hardened to 60Rockwell. These blades will take and edge and last.
Shown here are the Dieter CQD and the Tempest. The Dieter is by no means a small pocket knife, but none the less has a pocket clip attached and comes with a Cordura belt sheath. One of the most notable things on the Dieter CQD is the auxiliary blade for cutting seatbelts, harnesses, shroud lines and the like. For SpecOps and EMS work this blade is invaluable.
Another major item is the main blade auxiliary lock, to keep from closing the knife when gripping it. More often than not Mr. Murphy is out there and with gloved hands it is easy to hit the liner lock and have the blade collapse on you, not a good thing; this leads to what in medical terms is known as an ouch or worse missing digits.
The Tempest is an ideal pocket clipit. It small traditional size lends itself well to daily use. This does not mean quality is sacrificed, it is not. Like the Dieter the handle is 6061 Aluminum and the blade is the same high great stainless. The grip has a cratex type rubber for a better purchase.
I have used the Tempest and the Dieter CQD for the last year and am impressed with them. My CQD travels all over with me for the simple little auxiliary blade that has not been needed at any of the wrecks I have stopped to help over that time. The Tempest carries well in the hip pocket of my jeans or shooting pants.
The entire line of MOD knives are meant and designed for the real world Special Ops folks. Because of the demands placed on these folks they will last for years of range work. For EMS and LE types these knives should last as long as your career or until they are lost or become part of that latest rescue. You can check out the line at www.mastersofdefense.com, and order on line if you would like.