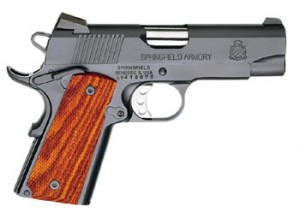 By Rev. Bill Sladek
I've carried a Glock Model 27 in .40 S&W for a number of years before finally giving in to that inner voice whispering that I should have at least ONE 1911. After waiting for more than three months for a stainless Champion and not one in sight, I settled for a SA Compact in the black matte alloy frame. It's a very eye-appealing package, especially with the Cocobolo grips and night sights. Still, I was a tad apprehensive about how it would point and shoot. After all, I had more than 2,500 rounds through my baby Glock and it never let me down.
I can say that after 600 rounds breaking in the little Compact, that I've retired my baby Glock for hot, sweltering days when the tennifer finish will be less of a hassle to care for over the alloy and matte finish of the 1911. As for running and gunning, the Springfield shoots better than I ever will. When I do my part, this handgun will keep all my shots in a 2 inch black circle at 15 yards — and that's shooting fast and loose. I train like I fight and I fight like I train, so I'm not a fan of excruciatingly long shots from bench rests. I have little doubt that this 1911 will do well at longer ranges, if called upon to do so.
I've had over past years experienced an occasional jam with my Glock, but this little Compact 1911 has NEVER flinched – never! I'm aware that some folks have encountered problems, but I have not. It shoots every time, and every time I squeeze the trigger, it shoots and that does so extremely well. I carry it with me every day and everywhere I go, as I place my life on what I carry in my Milt Sparks IWB holster. This handgun will not let me down.
As a matter of experience with this new pistol, I'm so pleased with this it that I'm looking at purchasing a full size 1911 in stainless — that is, if I can find one. It seems there aren't many Springfield Armory 1911s available because the Colorado natives buy them up as soon as they land in a display case.
If you're in the market for a beautifully manufactured 1911 that will be a joy to carry and even more fun to shoot, you won't be disappointed with the Compact. Place a Wilson Combat 7 round magazine in for good measure, and you're ready for just about anything that comes down the pike. Nuzzle this beautiful work of art in a Milt Sparks Versa Max IWB holster with sharkskin trim, and you'll be dressed for any occasion.
Happy shooting.
Rev. Bill Sladek, ELCA
Windsor, Colorado
Custom Loaded Compact 1911-A1Specs
Finish Matte PX9503L
Caliber: .45 ACP
Capacity: 6+1
Barrel: 4″, 1:16 LH
Sights: Novak® Night Sights
Sight Radius: 5.6″
Size: 26 ozs., 7.5″ overall length
Trigger Pull: 5 to 6 lbs.
Magazines: 2
MSRP: $782.00