Notice that the pistol is not jammed with sand, the operator has not been taken prisoner and the smiling newly liberated locals are obeying commands. The pistol is loaded with 230g FMJ ammunition running at 830 fps. Not bad for a 92-year-old relic.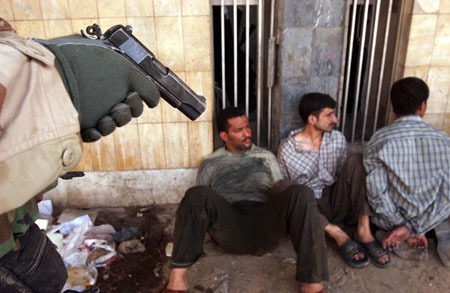 Primary function: Modified .45 caliber pistol
Builder: Specially trained armorers at the Rifle Team Equipment (RTE) Shop, MCB Quantico, Virginia
Length: 8.625 inches (21.91 centimeters)
Length of barrel: 5.03 inches (12.78 centimeters)
Weight:
Magazine empty: 2.5 pounds (1.14 kilograms)
Magazine loaded: 3.0 pounds (1.36 kilograms)
Bore diameter: .45 caliber
Maximum effective range: 164 feet (50 meters) for specially-trained user
Muzzle velocity: 830 feet/252 meters/second
Magazine capacity: 7 rounds
Unit Replacement Cost: $600
Features: This weapon is a modified M1911A1 .45 caliber pistol sometimes referred to as "near match" or "combat accuratized." The MEU(SOC) Pistol is the designated "backup weapon" of Marines armed with the 9mm MP5-N Close Quarters Battle weapon. The M1911A1 was chosen for this role (and its modifications generated) because of its inherent reliability and lethality, and because the MEU(SOC) modifications make the M1911A1 design more "user friendly."
The unique characteristics of the MEU(SOC) pistol are: commercial/competition grade ambidextrous safety, precision barrel, precise trigger, and rubber coated grips, rounded hammer spur, high profile combat sights, and an extra-wide grip safety for increased comfort and controllability (which aids in a quick follow-up second shot). The issue magazines are replaced with stainless steel competition-grade magazines with rounded plastic follower and extended floor plate.
Description of Modifications: "The MEU(SOC) pistol starts out as a stripped government contract M1911A1 frame, as manufactured up until 1945 or so. The frame is inspected, and the feed ramp polished and throated. The entire weapon is dehorned. All internal parts are replaced with current commercial items. King's Gun Works supplies the beaver-tail grip safety and an ambidextrous thumb safety. This last piece is often thought of as a superfluous device, added on as a derigueur item on hordes of IPSC pistols. Here it has some usefulness. The pistol must fit any operator in the platoon, whether he is right or "wrong" hand dominant. Future rebuild pistols will have a "memory bump" on the grip safety. Currently, many operators are unable to depress the grip safety when having their thumb (properly) on top of the thumb safety. Some, understanding that your priority safety rests between your ears, have taped this useless grip "safety" closed. This is now forbidden, and will continue to present problems until the rebuild pistols are brought on line. Videcki aluminum Match triggers are installed, and tuned to a pull of between 4-5 pounds. Colt Commander hammers replace the standard spur hammer.
Slides are commercial contract. Initially, one vendor supplied all of the slides, but after the initial purchase problems developed. Caspian and Springfield Inc. currently supply all of the slides. The new rebuilds will have forward slide serrations to enhance chambered round verification (the oh so important press check).
Barrels are provided by Bar-Sto. The barrel bushings are form King's Gun Works. The front sight is also form King's Gun Works and is staked on. While many have shunned this method of front sight installation, preferring instead to dovetail it in, the Marine Corps has apparently got this procedure down right. I cannot ever recall seeing a front sight come off of the pistol.
The high profile rear sight is custom made at the RTE shop. This is an excellent unit, providing a good sight picture. It is secured to the slide by a hex head screw. The ejection port is lowered and scalloped to improve ejection. A fiber recoil buffer is installed. This controversial device is both cursed and praised. There is no doubt that the buffer absorbs some of the battering, but they do deteriorate, and debris can insinuate itself into the nether regions of the pistol. This does no appear to be a problem in the Marine Corps, as weapons maintenance takes on almost religious proportions.
Flat mainspring housings are used, and as these are working guns, a lanyard loop is added. The lanyard themselves are made by the operators. A commercial telephone cord, the snap hook from an issue lanyard, and cable ties work out nicely. Pachmayer rubber grip panels finish out the package. Once used on a lot of 1911's, these are now considered to be somewhat Jurassic by some operators. There is no checkering on the MEU(SOC) pistol. This may be contrary to the exhortations of legions of pistolsmiths, writers, and wannabe commandos who insist that without such checkering the pistol will just slide and jump around in one's hand when they are wet, bloody, etc." — Patrick A. Rogers, Tactical Shooter Magazine, June 1999
Inventory: 500
Background: The weapon modifications were designed in 1986 to meet the requirements of the MEU(SOC). Each pistol is hand-built by specially trained armorers at the Rifle Team Equipment (RTE) shop, Quantico, Virginia.
See also The Marine Corps MEU(SOC) Pistol by PATRICK A. ROGERS
Some MEU's still carry proven M1911 .45's – Not everyone in the U.S. military carries Beretta's M-9 9 mm handgun. A small group of Marines still carry .45-caliber pistols — but they're a far cry from Grandpa's World War II gun.