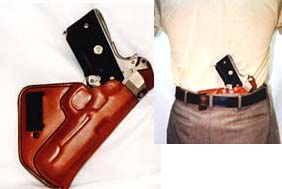 Don Carroll
I held an instructor's certificate the first three years of our CCDW, and was irked by only one prohibition in the rules, although it is easily understood why it existed — the warning not to make brand-specific recommendations. Because of physical conditions which have created some very sensitive nerve and muscle bundles around my hips, I've been long on the lookout for belt and IWB holsters which rode high enough, or were canted far enough muzzle-rear to allow comfortable carry of large autos, especially the P220, and not print.
The IWB is Alessi's M.O.B (middle of back), which I overlooked for years — can't be comfortable — have to sit on it — bad place to carry — etc., etc. Wrong. Worn just toward the strong-side, about half way between its intended position and that of a usual strong-side position, it is the most comfortable holster I own, for a piece that large. I've worn it on day-long drives for as long as 18 hrs. with no discomfort and the extreme "FBI" rake clears my tender spots and tucks the butt in very close to the back. I've worn it under cardigan sweaters, tail-out sport shirts – no print.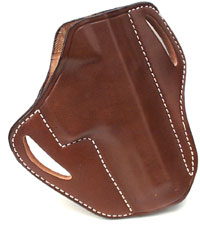 The other rig is the "Master", from Dillon Leather, sold through the Dillon Blue Press catalog. It is a pancake style, double slot in any color you want as long as it's black or brown. It also features a more extreme rake, and only needs the usual cover garment for a belt rig. Prices (I'm not current on this) should be around $70 for the Alessi, and $32-42 depending on which model for the Dillon. In either case, quality of both make them well worth the money. Alessi's shop is small and Lou does all the final hand molding and finishing himself. Dillon doesn't reveal his manufacturing source, but he is very particular what he sells, and has a no-questions guarantee. I've used both these rigs for over two years and have yet to find fault with them.
From Syd: I have used a Dillon Master for my Government Model for three years and feel that it is an excellent holster, especially given its relatively low price.