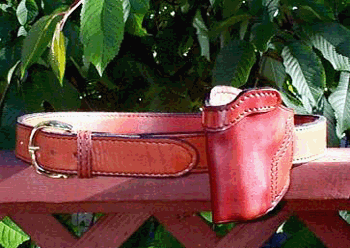 By Rick Breneman
The holster came REALLY tight. After a couple of applications of silicone spray, and pushing/pulling the gun in the holster a few hundred times, the fit is snug. The holster features a depression on the back side that protrudes into the trigger guard. As the gun is drawn past this obstruction, there is a sensation of the gun popping out. Rather than a smooth continuous pull, there is a kind of "break" like you get with a good trigger. I don't know if it's good or bad, just different. The Sport holster is of a similar design to the Bianchi Avenger, Sparks' 55BN, etc. For a really small gun like a Kimber Ultra or Colt Defender, the FIST design is fine. For a gun with a longer barrel and/or butt, I'd opt for FBI cant – for me, a full-size 1911 conceals better in the Bianchi than my snubby Detonics does in the FIST. The matching FIST belt is very thick and stiff, well able to support the gun and two mags.
The belt is double thick in the load-bearing areas, while the front is a single thickness, so you don't have a big stack of leather at the buckle – it looks like a dress or casual belt, but carries like a gun belt.
FIST holsters and belts are available in eight different colors – my holster is light brown, and the belt tan – as well as a number of add or delete options. I deleted the standard hand boning. My holster was custom modified from FIST's Officers ACP pattern to fit my Detonics Combat Master at no charge. Available at extra cost are different belt loop/slot sizes, thumb breaks, shields for the body side of holster – just about anything that you could want. I have used the holster in a couple of IDPA matches, and it has performed fine. Matched to the belt, the holster doesn't move around, and the gun comes cleanly out on the draw, while remaining secure.