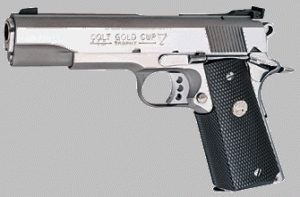 By Stan Allen
I purchased a Colt Gold Cup Series 80 Mark IV in .45ACP about 9 months ago. It is stainless with Elliason adjustable sights and a rubber grip that wraps around the front strap. The finish is very good with Colt's match trigger, match barrel and combat hammer. It's a very good looking package.
The gun came with Colt's blue hard case, two stainless magazines, bushing wrench and the owner's manual. Colt includes two recoil springs with the gun, one for normal loads and another for +p loaded ammunition.
The cost was right at the $800.00 mark (spring of '99). I have about 1200 rounds through the gun now and am pleased with it's overall performance. The gun had only one stoppage so far and that was a stovepipe type jam within the first 50 rounds or so using Hornady's +p loaded XTP Jacketed Hollow Points. Since then, no stoppages with any ammunition.
The only other problem I had concerns the Elliason rear sight. The rear sight is partly retained on the slide with a small steel roll pin that can easily break if you are not careful handling or carrying the gun (my range bag is a soft case). I recommend a hard case or a holster for carrying the gun to the range if you have the Elliason rear sight.
Overall, I have noticed that the slide is a tight fit and the barrel bushing is tight enough that it requires the wrench to disassemble. Accuracy is easily less than a 2″ group at 25 yards from a bench rest. The balance of the gun is excellent and contributes to a pleasurable experience when shooting. This gun is worth a look if you are thinking of a 1911 style gun in it's price range.