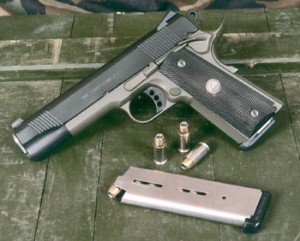 By Syd
Sometimes you run across something that is simply right. Such is the case with the Wilson Combat CQB. I was fortunate enough to get my hands on one for testing and evaluation. There is nothing particularly revolutionary or new about this gun. It is just the classic M1911A1 with all the things done to it that ninety years of experience with Old Slabsides have shown to be desirable.
The CQB is eat-up with sex appeal. It is two-tone, green and black Armor-Tuff coated, black slide, green frame, with black wood grips with Wilson night sights. Wilson's logo medallion which looks like pewter is set into the black wood grips to an excellent visual effect. It has 30 lpi checkering on the front and back strap. When I first held the gun, I thought that it had some kind of rubber wrap-around grip because of the way the checkering felt. It isn't sharp and abrasive and actually feels in your hand more like rubber than spiky steel. It is an interesting sensation.
The lock up has that "fitted by elves in the Black Forest" smoothness. There is no slop or rattle in the slide-to-frame fit. The barrel bushing is fitted without the tiniest bit of wiggle but you can still field strip the gun with your hands, not needing a bushing wrench. The accuracy is far better than anything I could do offhand. Wilson ships a test target with each gun showing exactly what it will do from the bench at 15 yards. (Click Here for test target)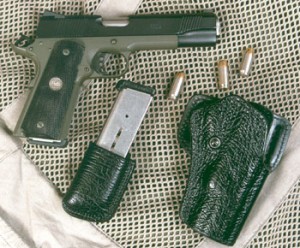 You might expect that a gun fitted this tightly might have reliability problems so we tested that. We ran approximately a thousand rounds through it without cleaning it. We tried to make the gun jam. We fired junk ammo, lead shouldered wad cutters, hollow points – everything we could find. We fired it "gangsta" style and weak hand only from around barricades. I tried a couple of old magazines which have tended to be sources of trouble. The only malfunction we experienced during the testing was a single stovepipe which occurred with a new shooter who had never fired .45 ACP or an M1911 before.
The trigger is perfect, simply perfect. There is a tiny bit of travel, but no creep, no roughness and no "catches." It breaks cleanly at about 3.5 lbs. of pressure. Were I asked by an aspiring gunsmith how the trigger on a tuned 1911 should feel, I would tell him to shoot this gun and he would know.
Charles shot the pistol at the Gunsite Alumni match. I shot it at a Kentucky Practical Defense League match. We were both gratified with the gun's performance. I was particularly impressed with my longer-range shots, an area where I often don't do so well.
The pistol is just right.