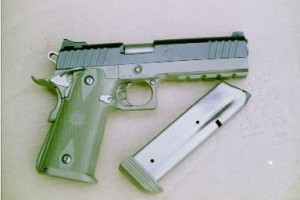 By Scott Smith
Long known for the companies competition pistols, STI International has made the Edge into a tactical duty pistol. Starting with the full length Edge frame and slab side slide, STI has milled a Weaver type rail into the frame. This has not changed the handling of the pistol from its competition roots, just the look and function.
The rail will accept an number of the tactical pistol mounted flashlights available today. Because of its size and light weight I favored the ITI M3 available from Streamlight. This light has ambidextrous controls and slides on and off easily. The pistol light package for duty work fits well into Blackhawk's (www.blackhawkindustries.com) Omega Series holster, use the 3volt size as well as Eagle's (www.eagleindustries.com) SAS line, again you need the 3 volt size.
As seen in the photo this pistol is a nonstandard OD green frame, and matte black slide. These finishes were applied by Robar (www.robarguns.com) and are its famous Rogard, and the OD is Polymax. All internal and moving parts have had NP3 applied to resist corrosion and for its self-lubricating qualities. These finishes were used as they are tough and will aid in the life of this pistol by helping to prevent rust from normal duty use.
Overall this is one fine pistol and serves both duty and competition well. For competition use it rides well in a Blade Tech (www.blade-tech.com) straight drop holster and the SOCOM's Heinie sights will keep most all loads on target. The weight of the SOCOM allows for fast shot to shot recovery and it tracks well from target to target.
With most all factory or IPSC major loads this pistol will shoot sub 1 1/2″, 8 round groups at 15 yards all day long offhand. If this would fit fit your needs check with STI International at www.stiguns.com, they can build one for you.