By Syd
Two Government Model .45 autos carrying the illustrious name of Remington have served our nation's armed forces. Would it surprise you to know that one of them was built by a typewriter company which had no experience in building firearms? Here's the story.
In 1873, E. Remington & Sons embarked on a new venture, and in September of 1873, the first Remington typewriters were produced. While it took them 13 years to figure it out, E. Remington realized that they were a firearms builder and not a typewriter company, and in 1886 Remington sold the typewriter business. This business would later become Remington Rand, then Sperry Rand.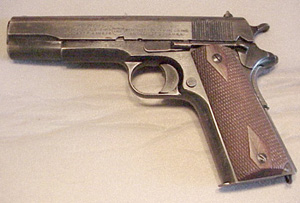 These were difficult times for Remington however, and in March 1888, E. Remington & Sons was acquired by Marcellus Hartley and partners. E. Remington & Sons was reorganized, and the new company was named the Remington Arms Company. In later years, in order to better utilize the potential of the Remington Plant, the company would produce sewing machines and cash registers. (I guess they just couldn't stay away from the gadgets.) In 1912, The Union Metallic Cartridge Company of Bridgeport and Remington Arms Company were combined into one company and became Remington-UMC, and just in time for World War I.
As the United States was drawn into the war, War Department planners in 1917 estimated that a total of 765,000 pistols would be required. The estimate was later revised upward, first to 1.3 million and then to 2.7 million. There was no way that Colt was going to be able to build that many guns. Orders were placed with Remington-UMC, Winchester, Burroughs Adding Machine Co., Lanston Monotype Machine Co., National Cash Register Co., A.J. Savage Munitions Co., Savage Arms Co., and two Canadian firms, Caron Brothers Mfg. Co., and North American Arms Co., Ltd. Of those firms, only Remington-UMC delivered any meaningful quantity (21,677 of 150,000 ordered). North American did make some pistols, but the total was probably less than 100. Some authorities dispute if North American even completed those.
The Remington-UMC M1911 Pistol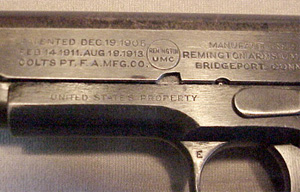 The Remington-UMC contract specified a "target" production rate of 3,000 pistols per day to be reached as soon as possible. The company immediately ran into problems because the necessary production blueprints and specifications were not available. Since interchangeable parts were required, production could not begin until Colt provided drawings. Eventually, a complete set of production drawings and specifications were obtained by Remington-UMC, and the company began to tool up for manufacture of the M1911.
Colt was not being deliberately resistive here. Truth be known, Colt probably didn't have a complete set of blueprints which would enable another company to quickly tool up and produce pistols. Colt's manufacturing style in those days relied heavily on the acquired skill and knowledge of the craftsman who worked in their shop, and it is quite likely that many of the "secrets" had never been committed to paper.
The first Remington-UMC pistols were delivered to the government in August 1918, but the company was never able to achieve the desired production rate. The company's M1911 production contract was cancelled in December 1918, soon after the signing of the Armistice, although production did not actually cease until early 1919. By the end of the war, Remington-UMC had only delivered 13,152 pistols. Total production was only 21,677 pistols when the final deliveries were made in early 1919.
The Remington-UMC M1911s were serially numbered consecutively from 1 through 21,677. The pistols were stamped with inspectors' initials (either "B" or "E"). The left sides of the slides were marked with Colt patent dates, the "Remington/UMC" logo arrayed in a circle and "Manufactured by/ Remington Arms UMC Co. Inc./ Bridgeport, Conn., U.S.A." The left sides of the receivers bore the same "United States Property" markings found on the Colt and Springfield Armory M1911s.
Early production guns should have the "E" stamp on left side of trigger guard, bottom of main spring housing, and back of slide. "E.E.C." is the mark of Edward E. Chapman who inspected 1911s at Remington in 1918 and 1919.
The Remington-UMC pistols were finished in the same rust blue as was found on the pistols made by Colt and Springfield Armory and were fitted with the same type of checkered walnut stocks. Although the company never achieved the production goals envisioned by the government, the Remington-UMC pistols nevertheless helped arm the Doughboys of the American Expeditionary Force. As was the case with the Colt and Springfield Armory pistols, the vast majority were subsequently rebuilt and refinished after World War I, and few are found today in their original "factory" condition. Surviving examples of all World War I and earlier vintage M1911 pistols in original condition are very rare.
The Remington Rand M1911A1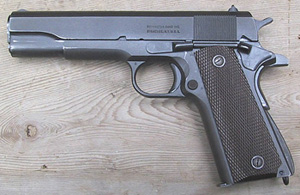 When World War II broke out, Remington-Rand had been a typewriter company for 55 years, and they made a right decent typewriter (I owned one), but they were a long way out of the firearms business. Nevertheless, Uncle Sam needed war material and any number of manufacturers were pressed into service building things that they had never built before for the war effort. But why didn't Uncle get Remington Arms to build the pistols? The answer is really pretty simple. The War Department needed Remington Arms to do what it did best and that was to produce ammunition. Other folks could crank out the pistols.
Remington Rand was awarded its first order on March 16th, 1942, for a total of 125,000 1911A1 pistols. The company had no experience building pistols at the time it was awarded the contract. Remington Rand formed a new division to take charge of building the pistols. The division formed was designated Remington Rand "C" Division. After winning the contract, they converted a vacant plant once used for building typewriters to the production of M1911A1 pistols. The old plant was located on Dickerson street in Syracuse, N.Y.
The first 255 production pistols where accepted by ordnance inspectors in November of 1942. In the beginning, some manufacturing equipment was still unavailable and this caused Remington Rand to acquire parts from other sources to complete the early pistols. They purchased barrels from High Standard, Colt, and Springfield Armory; disconnectors from US&S; grips safeties from Colt; and slide stops from Colt and Springfield Armory (2,865 left over from WWI).
By March of 1945 they where building the lowest price pistol in the war effort and quality was considered second to none. It is important to note that in March 1943, James Rand, Jr. stopped production due to interchangeability test failures. The guns where not meeting the government requirements for parts interchangeability and had a very high rejection rate. After a change in management, production resumed in May of 1943 with the interchangeability and rejection rate problems solved. By the end of the war Remington Rand had produced over 875,000 pistols, almost twice as many as Colt and Ithaca combined.
The most amazing part of the story is in how many of the Remington Rand pistols are still in service today, 55+ years after they were built by the typewriter company in Syracuse that knew nothing about building guns. Their owners swear by them, and if they haven't been abused, they're still solid and dependable pistols. I wish I had a dozen of them.
Sources:
"Non-Colt U.S. M1911s" by Bruce Canfield, American Rifleman, June 2001
Ty Moore, CoolGunSite.com,
http://coolgunsite.com/index.html
Remington Arms Company, History of the Firearms Business: 1816-2000
http://www.remington.com/pages/our-company/Company-History.aspx