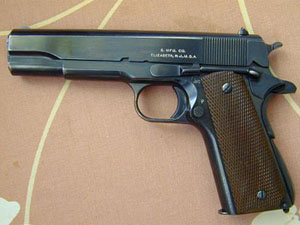 The Singer M1911A1 variation is one of the most sought after M1911A models. In recent years, values have increased significantly and as a result, many fakes have emerged. Most specimens are now recognized by serial number and be very cautious when contemplating a purchase. Some collectors unsure of authenticity are now requiring X-ray testing to determine originality (slide restampings, serial number changes, etc.).
In 1925 The Army Ordnance department requested from Singer an engineering study concerning the feasibility of mass production of M1911 pistols. This study was conducted at the Singer Elizabethport facility. The study took a year to complete and included a survey of existing production facilities and methods, and estimates of the additional machinery and production capacity which would be needed to produce 25,000 pistols per month.
As a result of the initial 1925 study Singer was awarded a Production study of the Model 1911A1 pistol, in 1939. On April 17th, 1940 Singer was awarded an educational order of 500 units to manufacture of the Model 1911A1 pistol. The educational study was a comprehensive examination of production processes which included mechanical drawings, photos, time study information and tooling setup for every part and operation required to build the M1911 pistol. The objective of this educational study was an ambitious goal, the production of 100 pistols per hour.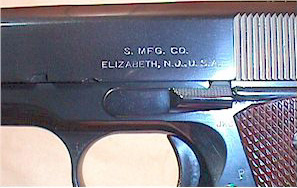 The 100-pistol per hour target was never achieved, nor did Singer ever engage in large-scale production of pistols. Once Singer had completed its 500 pistols specified by the 1940 order, pistol production by Singer was stopped and the Ordnance Department placed no further orders for pistols with Singer. The tooling and study documentation was distributed to Remington Rand and some went to Ithaca. The 500 Singers were delivered to the Ordnance Department and used as models. The Singer pistols represent the highest production values of all of the WWII M1911A1 pistols. Serial numbers for the pistols are S800001-S800500. An unknown number of pistols were produced for Singer employees. These were not given serial numbers or inspector marks.
Original and correct Singer pistols are highly desired by collectors and when sold, bring significantly higher prices than more common 1911A1 pistols. The Krause Publications 2002 "Standard Catalog of Firearms Price Guide" lists (Original) Singer pistols in excellent condition (96%-98%) at $25,000, in very good condition (92%-95%) at $18,000, in good condition (85%-95%) at $12,000, in fair condition (65%-85%) at $7,000, and in poor condition (60%or less) at $3,500.